Matching card...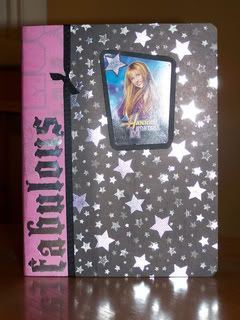 I made the Hannah Montana notebook for Leah's friend's birthday using the tag from the pajama set that we bought her. Once Leah saw the notebook she didn't want to give it away. She made me make another one for her. She picked out the paper and ribbon. I like the way they turned out. I have always wanted to alter one and after watching the video on The Pink Stamper blog
http://www.thepinkstamper.blogspot.com/
she made it look sooo easy so I decided to give it a try. What do you think?
Making another for other DD. Will post when I am finished... I'm loving these books. So much fun.